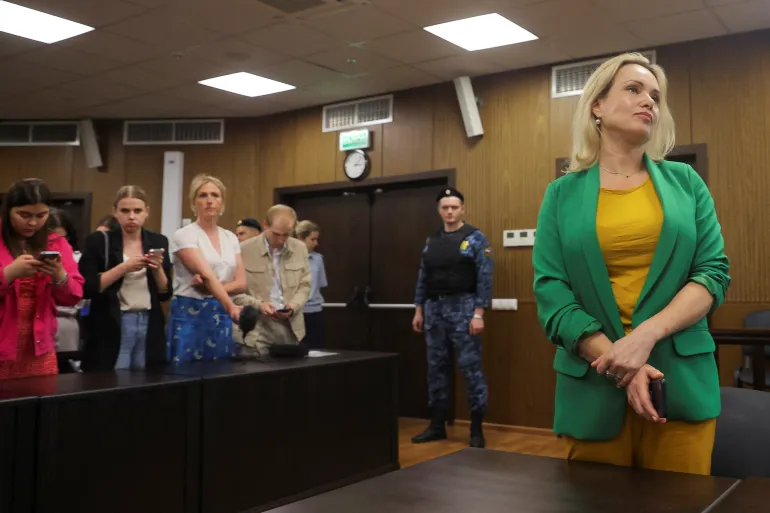 Russian Anti-War TV Protest Journalist Given 8+ Years in Prison!!
Read Time:
1 Minute, 15 Second
Moscow, Russia:- Marina Ovsyannikova, a former Russian state television editor transformed Kremlin doubter, has been punished in absentia to eight and fifty percent years behind bars by a Moscow court.
The Basmanny District Court found Ovsyannikova guilty of sharing false details about the Russian military, state news agency TASS reported on Wednesday, citing the Moscow prosecutor's workplace.
The fees associated with Ovsyannikova's protest near the Kremlin in July 2022, where she held a poster claiming Russian Head of State Vladimir Putin "is a killer" and "his soldiers are fascists." The journalist was positioned on pre-trial house arrest but later took off to Europe with her daughter, which landed her on the Kremlin's wanted list.
Ovsyannikova initially made headlines all over the world in March last year when she denounced Moscow's war on Ukraine throughout a live Russian TV broadcast. The previous Kremlin propagandist stormed the collection of Russia's top evening newscast Vremya sporting a poster that checked out "Stop the war" as well as "They are lying to you."
Ovsyannikova obtained a 30,000-ruble penalty (during that time, around EUR250) over that objection. She fled Russia and benefited a time for Germany's Pass Away Welt paper (which is owned by the politician's parent business Axel Springer), before going back to the nation to fight a youngster protection fight.
Ovsyannikova consequently ran away from Russia with her child, and according to current social media sites messages and records, appears to currently live in France.